As the world continues its drive towards a zero emissions future, it is becoming even more important for manufacturers to fast-track electric vehicle (EV) technology to the market.
In 2021 BMW has perfected electrified mobility through continued development of its BMW eDrive technology and the BMW i sub-brand. With the brand's all-electric models BMW iX, BMW iX3, BMW i3s and the BMW i4, fleet buyers can experience an entirely new sensation of sheer driving pleasure.
A continued leader in the field, BMW has reduced the CO2 emissions of its European new vehicle fleets by 53 percent between 1995 and 2020. By the end of 2025, BMW will have delivered about 2 million full-electric vehicles to customers globally, rising to 10 million by 2030.
It's a business model that's not only proven to be sustainable, but effective. In 2021, there are new opportunities for forward thinking fleets.
Safety for Fleets
For the typical fleet manager, nothing is of greater importance than protecting the welfare of your most important assets – your drivers. You wouldn't compromise safety in any other part of your role so why would you in your vehicles? The BMW brand is renowned for its commitment to safety and has worked hard to increase the use of driver assistance systems among its entire line-up of vehicles with initiatives such as the following:
Hill start assist
Road sign recognition
Emergency brake assist
Steering and lane guidance assist
Cruise control
Distance control
Speed limit assist
Lane-change warning & lane-change assist
Parking assist
Driver assistance systems are an indispensable part of modern cars and in the foreseeable future will take further control of the vehicle to reduce crashes and keep fleets safer, while also substantially reducing accident claims and repairs.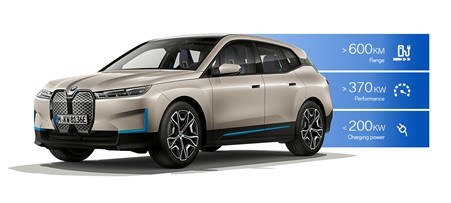 Lower emissions & incredible performance
BMW's all-electric zero emission BMW i3s, BMW iX3 and the incoming BMW i4 and BMW iX are helping fleet managers achieve their environmental targets overnight. BMW's full EVs are complemented by its plug-in hybrid EV line-up in the shape of the BMW 330e Sedan, 530e Sedan, 745e Sedan and X5 xDrive 45e – all displaying a fuel consumption range of 2.2 – 2.4 litres per 100 kilometres (based upon a combined rating under ADR 81/02).
The BMW iX features a range of more than 600km, can recharge to 120 km in ten minutes, and can go from 10-80 percent on a public charge network in less than 40 minutes. The two powerful electric motors elevate the BMW iX's power to a sport car level – with its silent acceleration from 0 to 100 km/h in under five seconds.
Competitive Whole Cost of Life
All new BMW vehicles come with a three-year warranty with no distance limit, running from the date of purchase. Furthermore, a complimentary BMW Service Inclusive package gives you peace of mind on annual vehicle check, oil service, and engine oil top up and more for up to 3 years or 60,000 km, whichever comes first.
Fleet buyers receive preferential recommended pricing along with a host of discounts. Speak to your local dealer for more information.
 Benefits for Employees
BMW is a brand of inventors, pioneers, and brilliant designers. The brand has spent more than a century engineering this expertise and identity to provide you fleet a vehicle that instils pride and tells them they are valued.
BMW provides your fleet drivers the best in production technology and sustainability alongside uncompromising safety features. With competitive corporate offers, why not use 2021 as a chance to introduce a sense of luxury to your line-up?
For more info on the BMW opportunities for fleets, click here