Woohoo, Victoria win's and EV uptake across Australia increased by a whopping 59% in 2020, but let's not get too excited as EVs only represent around 0.7% of new vehicles sold.
In fact, according to a table put together by the Institute for Sensible Transport (IST) using the latest ABS Motor Vehicle Census data, seven postcodes of Victoria are included in Australia's top ten postcodes for EV update.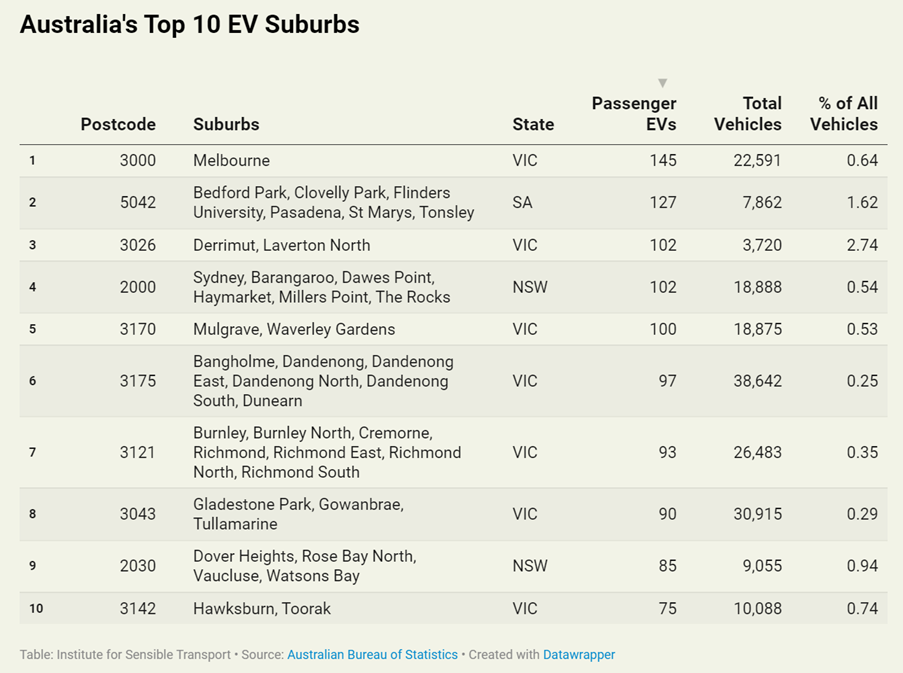 Melbourne claimed the number one spot with 145 EVs or just 0.64% of the total vehicles in that postcode with South Australia's postcode of 5042 coming in second. 5042 includes Bedford Park, Clovelly Park, Flinders University, Pasadena, St Marys and Tonsley with 127 EV's or 1.62% of the total vehicles.
The New South Wales postcode of 2000 came in third which includes Sydney, Barangaroo, Dawes Point, Haymarket, Millers Point and The Rocks accounted for 102 EVs or 0.54% of the total vehicles.
When reviewing the top ten postcodes of each state Victoria accounted for 908 EVs, New South Wales 583, Queensland 400, South Australia 282, Western Australia 239 and Tasmania 221 EVs. It's perhaps not surprising to see no sales in the Northern Territory.
With both the Victorian and New South Wales Governments announcing $3,000 incentives for EV purchases, it remains to be seen how 2021 EV sales by postcode will compare.
What is clear, EV sales for 2021 will dwarf their mediocre performance in 2020.
If you are interested in seeing how EV ownership has changed over recent years by postcode, IST has made an easy-to-use interactive map. Check it out here.