AfMA catches up with Andrew Love, Supervisor of Assets Cleaning, from the City of Monash to hear how the Council has gone with a trial of Bucher Municipal's new compact sweeper and electric rear loader co-developed with CMI Hino and SEA electric.
Take us through the trial of the Bucher Municipal vehicles. What vehicles were used and in what capacities?
We used Bucher Municipal rear loader vehicle, UrBin RL110e (previously named UrBin 11e). We had this vehicle for a week and our teams basically took it out and used it to pick up litter.
I also took out the new all electric compact sweeper, the CityCat V20e in a car park for about an hour and it was extremely impressive. I didn't think it would have the power that it did have being an EV. We filled the truck in an hour in a car park, so I was really impressed with the amount of suction we generated.
Are the electric models quieter than the traditional models?
My teams were surprised with how quiet the electric rear loader was, and how quick around town it was for them. We've used Bucher Municipal's products for many years so we knew the compactions systems would be good but with regards to the electric aspects, we were all very impressed. It did have its minor moments of sluggishness on the uphills but for what we would use an EV for it would suit us.
Are there any potential issues you might find in using the vehicles long term?
The vehicle always got through our eight-hour shift and has always lasted the journey.  For what we do we don't need race cars – it's as simple as that and it's not an issue. The issue we might have is that we tend to double shift with some of our vehicles and we would need to find a way to be able to charge these on a quick charge to make a double shift possible.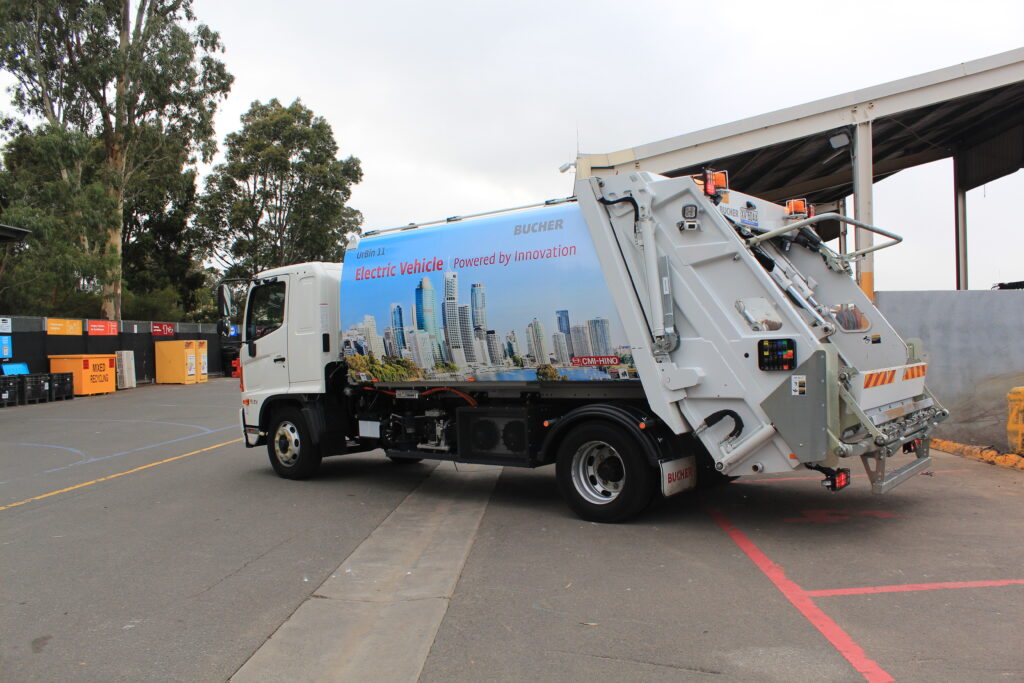 Have you had to install any additional charging stations around council for the trial?
We already had existing council charge points but we installed an extra port for this trial. The City of Monash is aiming for the Council to be net zero by 2025. It's quite ambitious and one of the best ways for us to achieve that is through using more efficient vehicles. Outside of vehicles, we are well and truly invested into the space of electric – especially electric machinery. I've been using the electric backpack blowers for nearly two years, which have been extremely reliable and it also stops noise complaints.
What are the dilemmas that you think can put councils off investing in EV technology right away?
I think all councils want to invest in EVs but there are challenges. For us we know that an electric truck is roughly a hundred thousand dollars more than a stock standard truck so we have to weigh up the economic benefits. I'd encourage councils to consider undertaking a whole life of cost analysis relating to the benefits of having EVs in its fleet and whether those benefits outweigh any consequences like the inability to double shift until there is fast charging. I think that will be the game changer. Once your Council can have fast charging infrastructure on site it allows a lot more flexibility for rostering.
Would you recommend the Bucher Municipal's EV refuse vehicles and compact sweepers?
I would need to have them for longer to really make a better judgement, but I'm all for it because it's a sturdy garbage truck. Bucher Municipal garbage trucks have always been extremely reliable and they have been one of the leading garbage compaction manufacturers for a long time. Councils would need to make their own judgements about what manufacturer they go with as every provider has their strengths and weaknesses, and these can vary significantly depending on your needs.
For more information about the new Bucher Municipal electric models, head to www.buchermunicipal.com.au or call on 1800 BUCHER (1800 242 437)