Canoo have debuted its fully electric ute for US preorders in Q2 2021, with deliveries beginning in early 2023.
Following the announcement shares of the electric vehicle start-up jumped by as much as 14 per cent with shareholders taken by the vehicle's striking appearance and features – which include a pull out bed and side storage.
The ute features an electric drivetrain powering all four wheels, which provides 600 horsepower of instant torque. The manufacturer is claiming a range of about 322 kilometres, but in real world conditions with a full payload on board – 816 kilograms – it is expected to be somewhat lower.
Electric utes have become big business with manufacturers including Chevrolet, Ford, Hummer, Rivian, Lordstown and BYD all planning models for release either this year or very soon after.
"We are so passionate about building vehicles that can change people's lives," said Tony Aquila, Executive Chairman, Canoo.
"Our pickup truck is as strong as the toughest trucks out there and is designed to be exponentially more productive."
Canoo's ute was built with several unique features to help customers do more with their vehicles, but by far the biggest highlight comes in the form of its bed.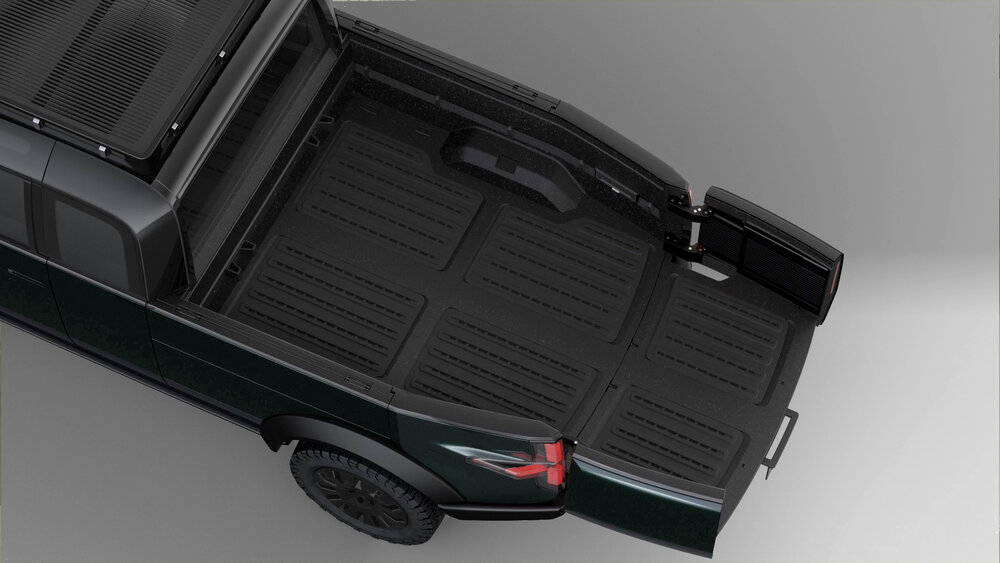 The ute's bed is six feet long and can extend to a fully enclosed eight feet, allowing big items such as a 4 by 8 ft sheet of plywood to easily fit inside. The tailgate has two doors that swing out rather than a single piece that folds down to further maximise easy access.
The sides of the load area also flip down, doubling as a table or workbench and making it easier to access the load. Load separators are modular and can be added to keep different load items separate.
"This truck works for you – we made accessories for people who use trucks on the job, weekends, adventure," Mr Aquila added.
"You name it, we did it because it's your platform and she's bad to the bone."
It's interesting to note that the company seems to be focusing on a subscription model for its new EV – meaning the vehicle may never be available to be purchased outright. It's a unique strategy but one that may pay off given the huge uptake in share prices overnight.
There's no word yet on whether the Los Angeles based manufacturer has plans to get its shiny new model to Australia so for now it's very much a waiting game.