Driving Fleet Glass Solutions Forward
NOVUS Glass is reputably known as the "Repair first, replace when necessary" company and is recognised around the world as the inventor of the windscreen repair process. Repairing over 25 million windscreens worldwide since 1972, NOVUS repairs restore the strength and clarity to the glass and prevents the further spread of damage.
The NOVUS revolutionary windscreen repair process fixes more breaks than any other system in the industry. In fact, we can repair chips and breaks that others won't even attempt to fix. Novus Glass has consistently achieved a Repair to Replacement Ratio of over 30%, delivering great savings to Fleet owners. Not only are windscreen repairs cheaper than windscreen replacements, they also offer other benefits such as: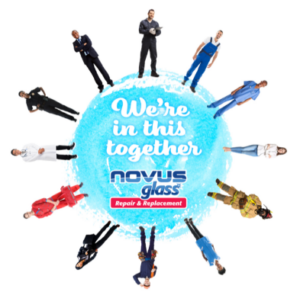 Maintaining the structural integrity of the vehicle, as the windscreen does not need to be removed and re-installed.
Saving the environment by reducing the number of windscreens ending up in landfill.
Chip repairs are quicker and save time, so your vehicles can get back on the road sooner.
Lifetime, nationwide warranty on all repairs and replacements.
Fully mobile fleet- we can come to you!
Most windscreens can be saved after being chipped or cracked, but only with superior skill and cutting-edge technology. When NOVUS repair windscreen chips, we inject our very own patented resin into the damaged area. This prevents the chip from growing or spreading into a crack. For the Novus resin to return the glass back to its optimum strength, the chip should always be kept dry and clean from contamination.
This is where the NOVUS Glass Saver Patches play an important role.
COVID 19: NOVUS Glass responds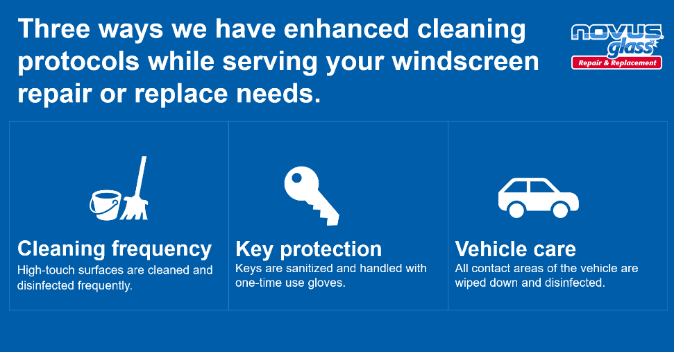 Windscreens play an important role in your safety and that of your vehicle often preventing roof collapse in the event of a rollover. All NOVUS Glass locations remain open to provide vital support to those in the community that have essential travel requirements, with getting the crack or chip in their windscreen repaired or replaced.
Your safety is our priority and we have adapted our existing processes which have also been enhanced with your health and well-being in mind. All NOVUS Glass Locations follow several protocols to enhance our cleaning processes while serving your windscreen Repair or Replacement needs. These include:
Cleaning Frequency: All high-touch surfaces are cleaned and disinfected on a regular basis.
Key Protection: Keys are sanitised and handled with one-time use gloves.
Vehicle Care: All contact areas of the vehicle are wiped down and disinfected before being returned to our customers.
All our technicians adhere to social distancing requirements and all retail store locations actively disinfect all contact surface areas throughout the day to promote a clean and healthy environment.
By taking these measures, NOVUS Glass can continue to provide outstanding service to our customers while keeping the health of both the staff and customer paramount.
NOVUS Glass also offer the following services to all our Fleet Partners:
Dedicated Account Manger
Central Billing
Reporting capabilities
National Call Centre
Fully Mobile Network
Nationwide Warranty
To help our Fleet Partners, NOVUS Glass will provide complimentary Saver Patches to all vehicles within your fleet. This allows you to ensure you keep all chips clean and dry which ultimately allows them to be the best candidates for a successful repair. Call 13 22 34 for details.