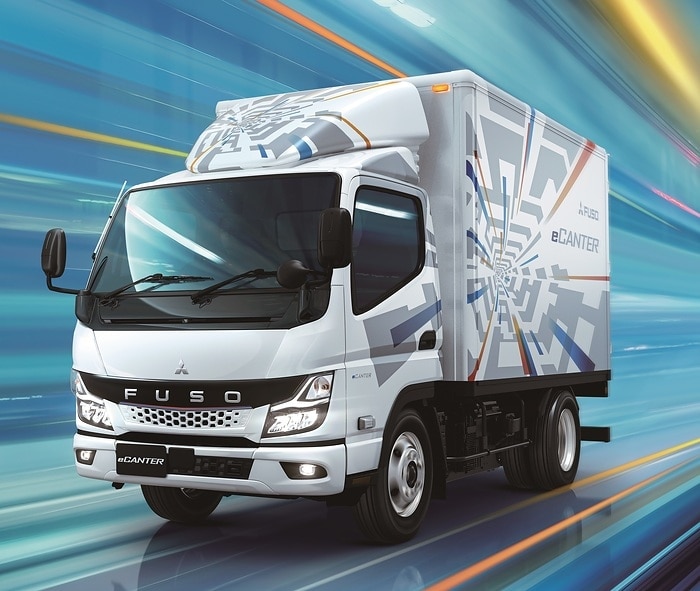 Daimler Truck subsidiary Mitsubishi Fuso Truck and Bus Corporation (MFTBC) has unveiled the next generation range of the all-electric light-duty eCanter truck.
The new eCanters will feature a new modular battery system as well as expanded safety and driveline technology.
In a media statement, MFTBC said that the "vehicle is available with three battery pack options, based on the wheelbase. Vehicles equipped with a single battery, with a rated capacity of 41,3 kWh, have a range of up to 70 km on one charge. Vehicles with two batteries cover a range of up 140 km, and those with three batteries up to 200 km".
The new model will also be equipped with a PTO power take-off unit. This enables special purpose solutions for customers wishing to operate their eCanter with a tipper, rear crane, or climate-controlled van body, among other various options.
The next generation eCanter will also feature the eAxle, integrating the motor with the rear axle. This will allow for a more compact drivetrain structure".
"In addition to the current 7.5-ton (GVW) model, the new vehicle comes in weight classes ranging from 4.25 tons to 8.55 tons."
"The cab variation has also been expanded; now offering a new wide cab (1,995 mm) in addition to the standard cab width (1,695 mm) that allows for more flexibility on routes covering narrow roads. The range of wheelbases has also been expanded, from 2,500 mm up to 4,750 mm."
Furthermore, the new eCanter will include advanced safety features. This includes active sideguard assist, active brake assist, driver attention monitoring, intelligent headlight control, and back eye camera system.
Revealed in a world premiere in Japan, the line-up will be expanded to up to 80 variants to address a diverse range of logistics operations. This will be available in Japan beginning Spring 2023. It will also be rolled out in Singapore, Hong Kong, Indonesia, Europe, Australia, and New Zealand.
Did you find this article interesting? Don't forget to give it a like by clicking the heart button above!