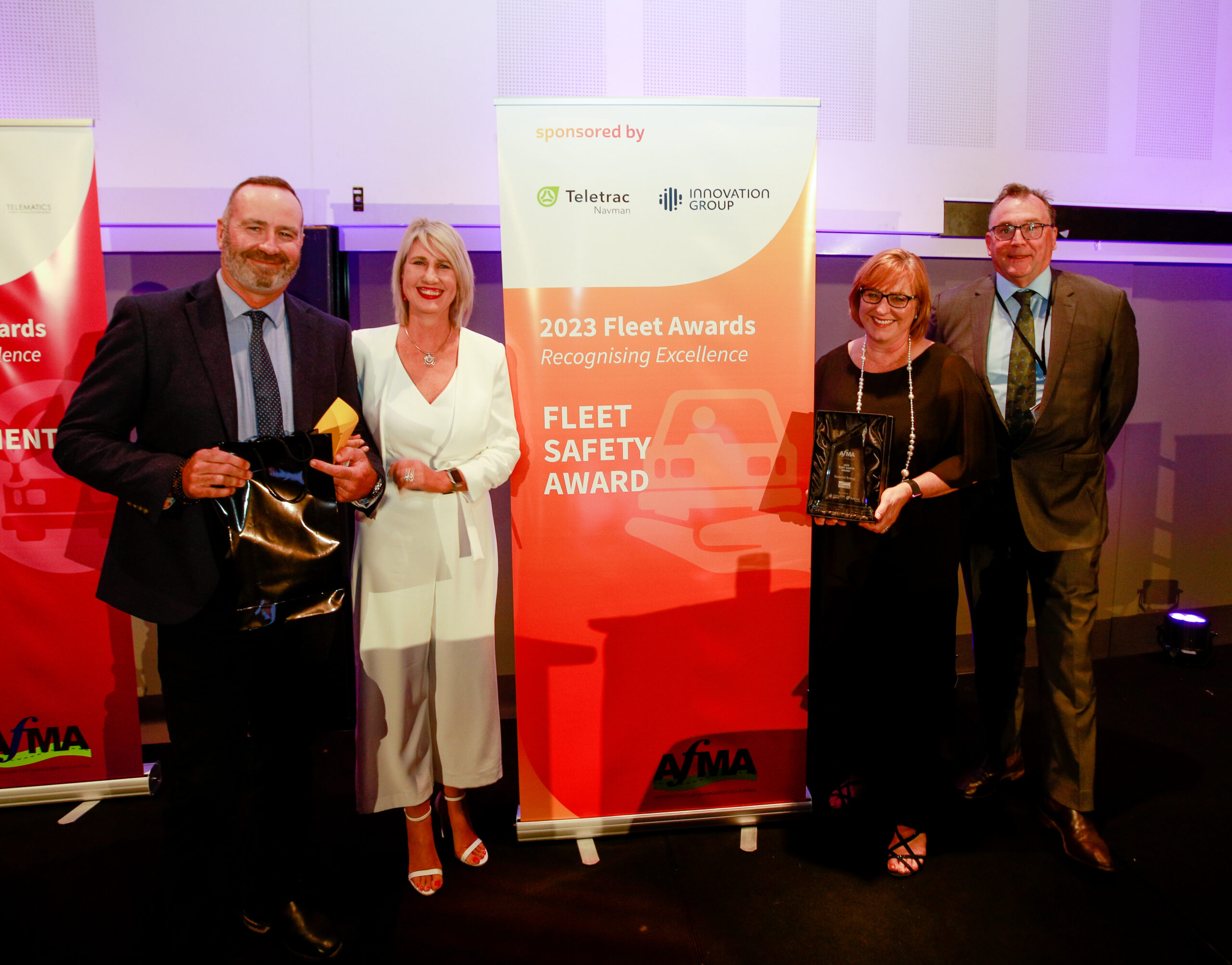 At last night's AfMA Fleet Awards Ceremony, attended by over 600 industry guests, Essential Energy was honoured with the prestigious 2023 Fleet Safety Award. This accolade recognises the company's outstanding achievements in fleet safety management, driven by cutting-edge technology and a safety-oriented culture. 
Essential Energy has proactively addressed the risks associated with driving, a significant concern for their workers who travel over 32.5 million kilometres annually. The company implemented an In Vehicle Monitoring System (IVMS) across its entire road-going fleet, supported by an electronic pre-operational check application and Oracle Maintenance Cloud. This comprehensive approach aimed to improve driver behaviour, fatigue management, and decision-making for lifecycle management. 
As part of their commitment to work-related road safety, Essential Energy's Core Business Values, Network Fatal Risk Programme, and Towards Zero Road Safety Programme exemplify their dedication to reducing risks. The company fosters a strong safety culture with the help of Safety Business Partners, Toolbox Talks, TotalSAFE Reporting Tool, and the Fleet Inspection and Audit App, all focused on mitigating the risk of vehicle incidents for staff and the public. 
Safety policies listed in Essential Energy's SharePoint policy library are updated monthly and communicated via newsletters. Driving and fleet-related policies are reviewed biannually, or as needed. An integrated organisational structure facilitates cooperation across departments, using the TotalSAFE tool to manage work-related risk and safety effectively. 
The company leverages Oracle Maintenance Cloud and the Fleet Inspection Audit app for asset management, supporting their entire road-going fleet with an IVMS l providing accident data reconstruction, and the ability for drivers to access reports on their own driving behaviour and fatigue. This approach empowers leaders to have data-driven conversations regarding driving behaviour. Since implementing the IVMS system, Essential Energy has observed a steady reduction in vehicle incidents, increased pre-operational inspection compliance, and improved maintenance control over assets. 
 The IVMS, FIAS, and OMC systems have provided numerous benefits such as the ability to immediately assist a vehicle in duress, accident reconstruction, and crisis event map overlays. These innovative tools have led to an overall reduction in asset performance scores and asset health-related incidents. The accident rate per million kilometres has impressively dropped to .00000003, and the accident rate per 100 vehicles has been reduced to .05. 
Essential Energy is open to sharing its learnings from implementing an IVMS system with fleet managers and organisations seeking guidance on similar challenges. This collaborative spirit, combined with Essential Energy's innovative approach and strong safety culture, underscores why they are deserving winners of the AfMA 2023 Fleet Safety Award. 
Congratulations to everyone at Essential Energy for their achievements and continued commitment to safety. 
AfMA wishes to extend their warm thanks to the 2023 Safety Award sponsors, Teletrac Navman and Innovation Group, for their invaluable support. Additionally, we are grateful to everyone who submitted nominations for this year's awards and to those who joined us last night in applauding the winners! We eagerly await the opportunity to see you all again in 2024.