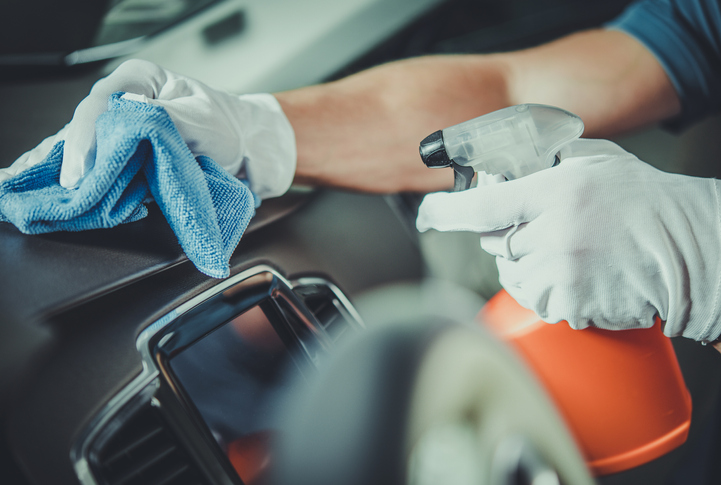 Keeping your vehicles clean and sanitised during COVID-19 is one of the greatest problems affecting the operations of those within the fleet management sector. How do we keep operating in such uncertain times whilst keeping our greatest asset – our people – safe and healthy.
The following Vehicle Cleaning and Sanitising Guideline is provided to help you manage the cleanliness of your fleet. It covers general clean & sanitisation, how to manage contaminated vehicles, and a link to a COVID-19 hygiene awareness for the drivers training course. To download this material as a PDF factsheet a link is attached at the bottom of this page.
1. HOW TO CLEAN AND SANITISE VEHICLES
Clean all common areas before and after a vehicle is used, such as:
Door handles (internal and external)
Boot lid
Internal handles above doors
Steering wheel
Seats
Dashboard
Seatbelts
Control buttons
Head rests
Gear stick
Grab handles
Cup holders
Window controls
Centre console
While using the vehicle, the vehicle's air-conditioning should be set to fresh air, not recirculated air.
Vehicles can be cleaned with cleaning wipes, which are safe to use and meet the World Health Organisation's cleaning advice; or cleaned with a hospital grade (non-bleach) disinfectant solution. Ensure you follow the product's instructions and Personal Protective Equipment (PPE) advice.
Wash your hands thoroughly after cleaning the vehicle using soap and water and dry your hands. If water is not available, clean your hands by using an alcohol-based hand sanitiser.
2. HOW TO MANAGE A CONTAMINATED VEHICLE
If you become aware that a person/s has been diagnosed with coronavirus (COVID-19) and has recently driven or has been a passenger in a vehicle, it's recommended the following steps are taken:
Isolate the vehicle ASAP (make it unavailable by removing from service)
Report it to your supervisor ASAP and inform your Fleet Administrator
Hire a professional hygienist to clean and sanitise your vehicles. Grid Group are an AfMA supplier member and can assist in many areas across Australia and New Zealand. Call +61 (0) 246 477 155 or email info@gridgroup.com.au, website https://www.gridgroup.com.au/ or contact your local vehicle detailer.
3. LINK TO FREE COVID-19 HYGIENE AWARENESS FOR DRIVERS TRAINING COURSE
For more general information a free online training course is available, relating to hygiene awareness, visit: COVID-19 Hygiene Awareness For Drivers training course.
More information
With coronavirus remaining a major concern, it is important to remember that all people displaying symptoms such as fever, cough, sore throat or tiredness must take a test and stay away from work until it comes back negative. If ever in doubt, particularly in Victoria take a test.
For the latest advice, information and resources, go to www.health.gov.au. The phone number of your state or territory public health agency is available at www.health.gov.au/state- territory-contacts
AfMA thank QFleet for sharing the information used to create this guideline. The information contained in this document is accurate as at 16/4/2020. This is a general guide only and you agree not to hold AfMA liable for any damages due to using the information contained within. To download the following information as a PDF Fact Sheet, click here
For details on Physical distancing guidelines for vehicles (COVID-19), click here