ZERO Automotive is the coming together of two industry influencers: Dave Mitchell, who grew the race car component company Autosport Engineering into 4WD industry heavyweight High Performance Diesel and Tim Possingham, a renowned export marketing consultant with expertise within the global motorsport industry.
To achieve its ambitious goal of producing zero emission vehicles, the team has sourced electrical and mechanical engineers with specialised skills to develop the ZERO product range and capitalise on the exhaustive list of capabilities that ZERO possesses. For Tim it is this state-of-the-art design and manufacturing technology combined with knowledge and expertise that allows the organisation to deliver innovative, tough and user-friendly products.
"ZERO Automotive came together mainly for making and upgrading components for vehicles within the mining sector," he says.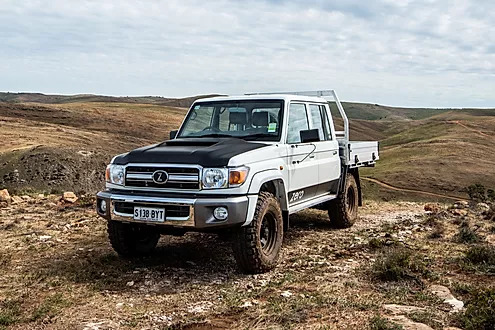 "We already knew what was happening in the mining space in terms of global mining standards including implementing a zero emissions target by 2030. It's clear that the writing is on the wall in terms of older vehicles within the mining sector – it's not a matter of if but when."
For Tim and Dave achieving this dream all came down to leadership and trying to be ahead of the curve. The message from them is simple when it comes to zero emissions vehicles – "the wave is coming and the wave is like a tidal wave"
"We wanted to lead it, be on the front foot and develop a product that fits this evolving market," Tim says. "We finished our ZED70 vehicle in September 2019 and we tested it in the field and launched it publicly in October 2019."
The ZED70 (zero emissions drive) vehicle is a testament to the work of Tim and the team – sleek in design and boasting some serious specs all while remaining completely emissions free. The hardest part of any new product is convincing the market of its value, something that is already taking place within central Adelaide and across remote areas as well.
"We went to everybody we could and then were successful in selling the vehicle to the City of Adelaide some weeks after that. Then soon after that we successfully signed off on a contract with OZ Minerals."
"And here we are now – we are fielding a lot of inquiries from people from conservation groups, oil and gas companies, municipalities, agricultural company and things like that. And we're looking at doing a couple of vehicles in the next probably 10 months, slightly larger vehicles."
While larger inner-city fleets may look elsewhere for their electric vehicle purchases, the ZED70 is paving its way and proving a real asset for both the mining sector and local government space. Moreover a shoutout is in order to South Australia for again proving that innovation within the EV space is possible if people are willing to make those changes together.
For more information about ZERO Automotive: https://www.zeroautomotive.com.au/