AfMA was delighted to be invited to our first in-person Melbourne gathering for 2021 at Bucher Municipal's Clayton headquarters earlier this week. The manufacturer was delighted to be sharing it's all new CityCat V20e, compact sweeper & UrBin 11e, rear loader – which would be suitable for most local council fleets that were looking to start their EV journey.
Attendees were taken for a test ride in the CityCat V20e and appreciated the noticeably quiet operation of the model, while learning about its impressive 8 hour battery life. The rear loader also provided impressive features – namely its variety of available body sizes from 6m³ to 24m³ and also its intelligent hydraulic systems.
Below are some details on the new models and some snapshots from the day.
CityCat V20e – compact sweeper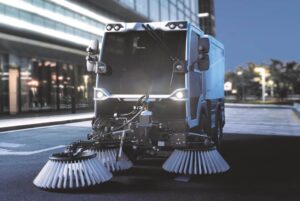 Bucher Municipal's new all-electric sweeper provides improved suction, enhanced connectivity, increased comfort and ever-important sustainability based on many years of experience in the development of compact sweepers. Useable around the clock, the second-generation electric powered sweeper with 2.1 t payload and 4.8 t gross weight, delivers an outstanding load capacity for outstanding sweep performance while being respectful to its surroundings.
Articulated steering
50 km/h top speed
2.1 t payload
2 m³ hopper volume
2700 mm sweeping width
425 l water volume
63 kWh automotive Li-ion battery
PM2.5/10 4-star certified
UrBin 11e – rear loader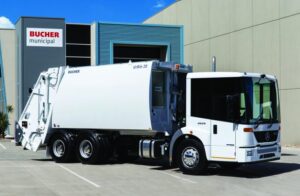 The UrBin Rear Loader is ideal for use in a range of applications, from light duty litter collection in parks and gardens, to heavy duty commercial, industrial and hard waste collection. UrBin, which stands for Universal Rear Loading Bin Lifter, is available in a variety of body sizes, ranging from 6 m³  to 24m³ to suit a variety of 4×2 and 6×4 chassis configurations, including Electric Vehicles.