An Australian team driving a Hyundai NEXO fuel cell electric vehicle (FCEV) has broken the world record for the longest distance travelled in a hydrogen-powered vehicle on a single tank – reaching almost 900 kilometres.
Australian Hyundai rally driver Brendan Reeves drove a production-spec NEXO for the record attempt, starting from Essendon Fields in Melbourne and driving 807km to Broken Hill in New South Wales.
The journey then continued to Silverton, an outback town on the outskirts of Broken Hill, best known as the setting for 1980s post-apocalyptic action film Mad Max 2 (aka 'The Road Warrior'), and the car then travelled some 60km beyond before the NEXO's hydrogen tank was depleted on the Wilangee road beyond Eldee Station.
The total distance driven was 887.5km, according to the NEXO's own trip computer, exceeding the previous world record of 778km set by French aeronaut Bertrand Piccard.
"Being a rally driver, I've always wanted to achieve a world record, but I could never have guessed it would come about this way," said NEXO pilot, Brendan Reeves.
"As we set out from Essendon Fields in the early morning, I found NEXO immediately familiar and easy to drive – the controls are intuitive and easy to use, the driving position excellent and seats very comfortable.
"NEXO is in its element on the open road, with its long range, peaceful and refined cabin, and smooth, near-silent fuel-cell electric powertrain," he said.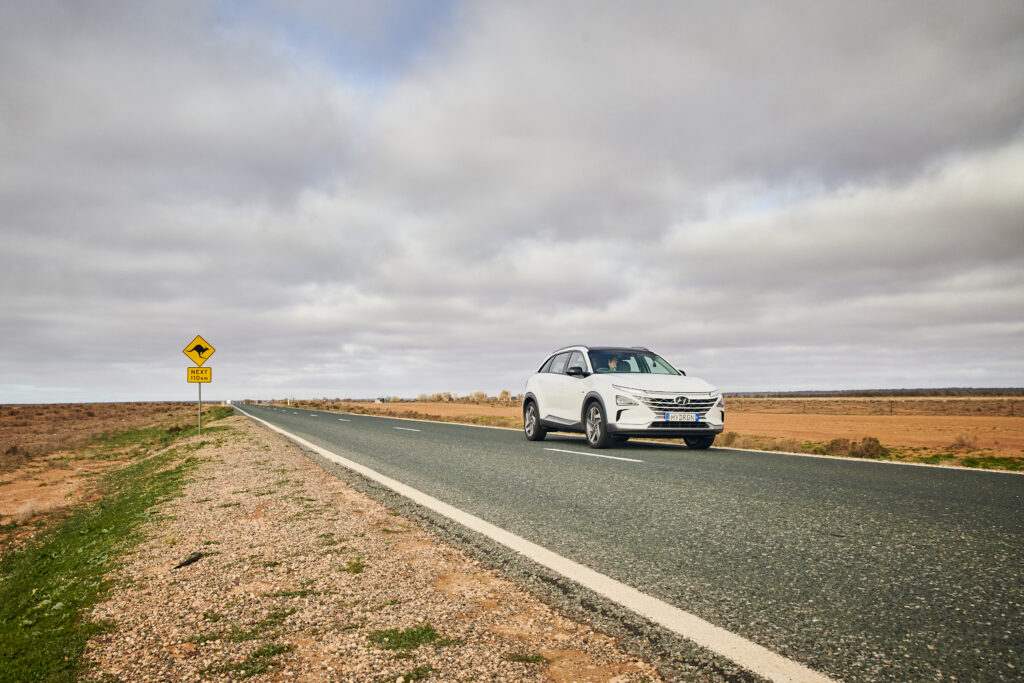 "I was constantly checking the NEXO's efficiency readout to maximise the distance I was getting per kilogram of hydrogen. I found that by using techniques from rally driving, such as looking as far down the road as possible, as well as tips I have learned from my dad for driving a truck efficiently over long distances, it's actually possible to go way beyond NEXO's official range."
The trip took 13 hours and six minutes at an average speed of 66.9km/h. The NEXO's low fuel warning first lit up at 686km, with over 200km of range left from that point. The fuel light started flashing after 796km, with 90km of real range remaining.
Hyundai recently imported the first 20 zero-emissions NEXO FCEVs into Australia, which are now deployed in a variety of roles with the ACT Government, as reported by AfMA earlier this year.
At the same time, a new Canberra hydrogen refueling station has become the first commercial H2 station in Australia, joining the private hydrogen refueling station commissioned at Hyundai Motor Company headquarters in Sydney in 2014 and Toyota's private station at Altona, Melbourne.
A hydrogen refueler in Brisbane is expected to be completed by the end of 2021, with new stations also planned for other states and territories.
Hyundai's NEXO is officially listed with a range of 666km (WLTP) with a refueling time of three to five minutes.
Hyundai Motor Corporation Australia is the Fleet Environment Award for AfMA's upcoming Fleet Awards which will be held as part of the 2021 Australasian Fleet Conference & Exhibition on May 20-21. Click here for more information.