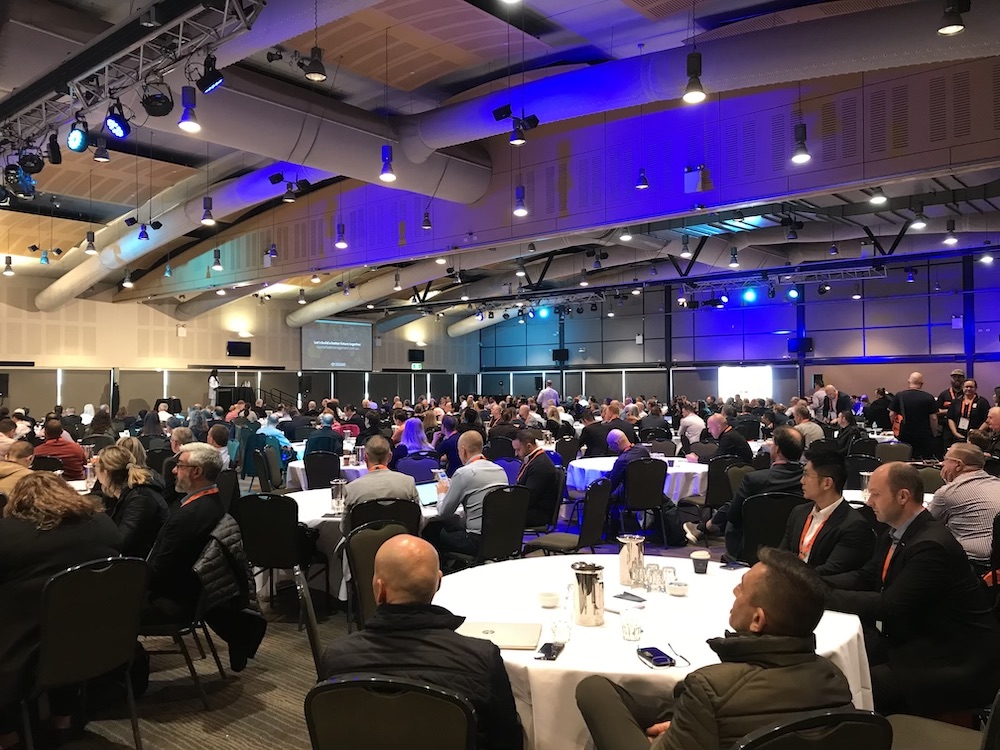 It's our most electrifying conference yet with over 700 delegates joining us for two days of education and networking at the Rosehill Gardens Grand Pavilion. This year, we had 25+ education sessions, 50+ speakers, and 60+ exhibitors that truly embodied this year's theme: The FUTURE belongs to the ready.
Here's a recap of the exciting things that happened during the 2023 Australasian Fleet Conference and Exhibition:
Day 1
Our Event Partners Toyota Fleet Management and Toyota for Business, represented by Phil Boxsell; AfMA President Vince White, and AfMA Executive Director Mace Hartley welcomed the delegates to the event and reinforced AfMA's goal of connecting people and creating outcomes for fleet professionals.
On the grand stage, graduates of the 2022 Swinburne Diploma of Leadership and Management witnessed the well-deserved recognition of numerous graduates. Among them, Aleta Gunn, City of Adelaide, Fleet Coordinator, stepped forward to share her profound reflection on the transformative journey she embarked upon during her participation in the program. Her inspiring account resonated with the audience, encapsulating the growth, learning, and invaluable experiences gained throughout her time in the diploma program.
Kicking off the conference were two keynote addresses that set the stage for insightful discussion. Matt Ryan, from the Emissions Reduction Division – Department of Climate Change, Energy, the Environment and Water provided a comprehensive overview of the government's National Electric Vehicle Strategy, shedding light on the strategic initiatives aimed at driving the adoption of electric vehicles (EVs) across the nation.
The second keynote address featured Noah Wasmer, representing ROEV, who captivated the audience with an innovative approach to achieving the ambitious net-zero emissions target by 2050. Wasmer presented a compelling case for converting existing petrol vehicles, particularly Utes, to electric, showcasing the immense potential for transforming traditional transportation into a sustainable and eco-friendly future.
What followed were several discussion sessions covering the importance of developing a fuel efficiency standard to address EV supply limitations in Australia, the newest zero-emissions vehicles coming to the market, and the convergence of technology and data in insurance. There was also a discussion on the crucial role of EVs in our Net Zero goals, holistic strategies for fleet decarbonisation, the role of technology in improving work health and safety. Finally, there were sessions on creating a second-hand market for EVs and the best practices and mistakes that we can glean from Europe and exploring the early challenges and learnings that businesses have learned as they transitioned to an electric fleet.
2023 Networking Dinner and Fleet Awards
The Networking Dinner and Awards ceremony held on Tuesday evening during the 2023 event attracted an impressive attendance of over 600 individuals. It was a night dedicated to fostering lasting relationships between fleet professionals and, more importantly, recognizing the individuals and organisations that have made a lasting impact in fleet management.
The night began by recognising Icons of Industry—individuals who have exhibited excellence, innovation, and leadership throughout their fleet management career. This included Mark Stephens of UnitingCare; Glen Hattander of the Lake Macquarie City Council, and John Barlow of the NSW Department of Planning and Environment.
The highlight of the night was the awards presentation where accolades were presented to outstanding fleet managers, innovative solutions, and organizations that have made significant contributions to the advancement of fleet management.
We would like to congratulate the 2023 Fleet Awards Winners:
Fleet Manager of the Year, sponsored by Geotab and BP, was awarded to Jitesh Singh of Waste Management NZ.
Fleet Environment Award, sponsored by Hyundai and Mix Telematics was awarded to Waste Management NZ.
Fleet Safety Award, sponsored by Teletrac Navman and Innovation Group was awarded to Essential Energy.
A big congratulations to all winners and we hope you continue to serve as a source of inspiration for the entire industry, encouraging and driving lasting change.
Day 2
On the second day of the conference, attendees were treated to two engaging keynote speeches that provided valuable insights into the fleet and transport sector. Dr. Steve Nutall, representing ACA Research, delivered an enlightening address that delved into the technological advancements and evolving fleet preferences shaping the industry, causing transformative changes and disruptions.
This was followed by a presentation from Jason Smith, representing the Australian Automobile Association (AAA), who emphasized the significance of independent real-world testing for vehicles, regardless of their fuel type, highlighting its importance for the industry. Both speakers offered unique perspectives and valuable information to the delegates, enriching their understanding of the fleet and transport landscape.
Afterward, a plenary session was conducted, led by Lisa Panarello, the Founder and CEO of Careers Advance New York. During this session, she emphasized the significance of networking for professionals in the fleet and automotive industry, highlighting the valuable opportunities it brings.
Following this are several breakout sessions on the key principles of fleet management policy development, mitigating the risks and challenges relating to grey fleet, and proving ROI when investing in technology for fleet operations.
There was a discussion on the latest inclusions in the ANCAP safety rating systems for 2023 onwards, the challenges and lessons in implementing Chain of Responsibility in fleet management in the Australian context, and the impact of today's market in current and future residuals and how to use data to for improved decision-making on current and forward fleet positions.
There was also a plenary session on the power of telematics and how data can be a fleet manager's best ally. Furthermore, there was a discussion on the role of hydrogen in reducing transport emission and one that highlighted the different EV policies and incentives offered in differed States.
In addition, there were sessions on developing a green fleet report, demystifying energy costs and energy solutions for EVs, and how car subscription can improve flexibility for fleets. Capping the day was a breakout discussion on how to achieve more in less time in negotiation preparation and implementation.
A huge thank you to Event Partners and Dinner Sponsors, Toyota for Business and Toyota Fleet Management and to 25+ sponsors and 60+ exhibitors who contributed to the success of the conference.
Thank you to our MC, Lisa Panarello, as well as to the 50+ speakers for taking the time to share their knowledge and industry expertise, to educate and prepare us for the future.
Our final thank you goes to the over 700 delegates who extracted themselves from their day-to-day business as usual to learn and understand how technology, alternative fuels, and industry best practice can assist them in developing strategies to transform their organisations' fleet management practices.
Thanks for your incredible support of the Australasian Fleet Management Association and we look forward to seeing you again in 2024!