One of the most challenging aspects of electric vehicle ownership is replicating the ease of tracking a vehicles consumption and use. This comes about from electric vehicles having the ability to plug in just about anywhere, from a domestic power point to a rapid DC charger.
The ability to replicate this experience is fundamental in providing fleet managers the ability to take those first steps electrify their fleet. EVSE Australia aims to solve this problem with its ONE FLEET solutions, which for the first time, allow fleet managers for the ability to track vehicles electricity consumption even when they go home.
By unlocking EV's from exclusively charging from depot or workplaces, you can also decrease the costs of your infrastructure deployment and significantly increase your charging capabilities and flexibility. This is particularly important given a large percentage of many fleets have vehicles that are taken home by employees, who will be charging using their own electricity and will need to be reimbursed accordingly.
At EVSE Australia, we're always encouraging fleet managers to consider the value of electrifying their fleet. We've got market leading solutions to do exactly that and save you money in the meantime. As the definitive EV charging experts, we've outlined our next big step into the future of fleet management below.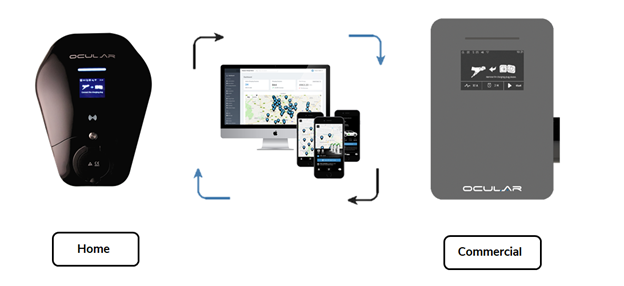 How it works
We've introduced a cost effective home charger called the Ocular IQ Wallbox. This charging station is equipped fully equipped with smart networking features through OCPP1.6J compatibility. This means that we can now link your home based chargers together with your commercial chargers, such as the Ocular IQ Commercial Wallbox, into the one simple to use dashboard.
Installation is extremely easy and flexible around your location, with standard wall mounting or ground-mounted options available to suit your needs.
The smart capabilities of these chargers are unlocked by the new Exploren OCPP network.
Users can download the Exploren app onto their smart device, giving them the ability to control the charging status and monitor energy usage directly through their device. The application also allows fleet managers to monitor and analyse charging data while providing other handy features like active load management and much more. The network can manage any OCPP based charging system on the market, so if you have existing smart chargers these can be brought together into your user dashboard.
A key difference the Exploren network provides is the innovative workplace and home charging link. Since most charging is done either at home or at work, Exploren can intelligently track charging data across locations for even easier fleet management.
Exploren was created with simplicity and ease-of-access as a priority to ensure a premium user experience that outperforms any other platform in Australia.
The Ocular IQ Wallbox and Exploren network is a perfect fit for any fleet manager who desires unrivalled control in an easy-to-use platform.
For more information about how EVSE Australia's solutions can futureproof your fleet, click here