The AfMA Fleet Industry Footy Tipping competition is back for 2021 and it's  now time to reactivate your account and get your tips in for this season. This year we are again hosting 2 comps – NRL and AFL. Competition – $20 entry will provide access to both comps or $10 for each.
Payment can be processed by clicking on the correct links below:
Payment must be made strictly by April 30, 2021 for both comps if you would like to be in the prize pool. Further information will be sent to members in coming weeks.
2021 Prizes:
1st Prize: $500 + 50% of player pool
2nd Prize: $300 + 30% of player pool
3rd Prize: $200 + 20% of player pool
Last Place: Branded Wooden Spoon
General Rules:
– 1 point per correct tip, no bonuses/joker rounds
– Away tips given by default if you forget to tip
– Margins used to separate tippers on the same score
– Comp duration for Home & Away seasons only (does not include finals)
Contact our FootyTips administrator Daniel Braid via [email protected] for more details. Happy tipping!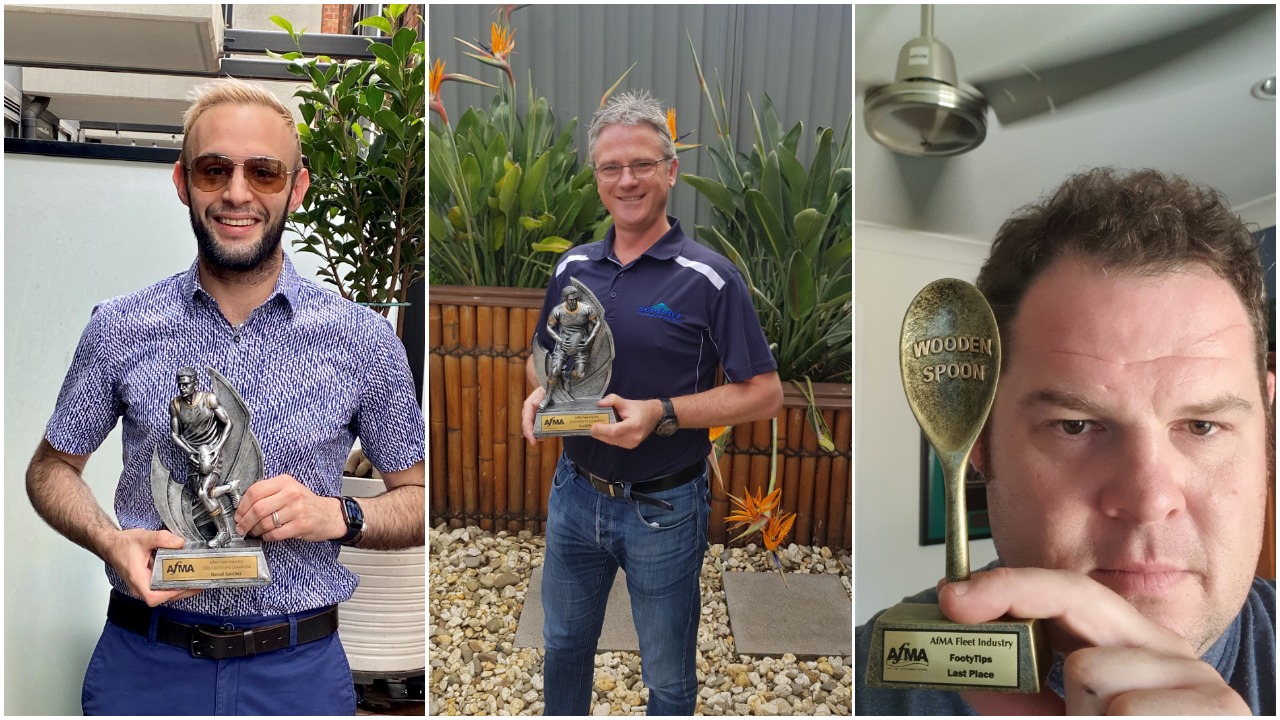 In another hard-fought year of AfMA Footy Tipping we were delighted to reward our Top 3 winners in both codes. Thanks to the 68 tippers (50 paid) who joined our AFL competition and the 36 tippers (25 paid) who joined our brand new NRL one.
Our AFL winner Daniel Sanchez finished on top after 18 rounds with a total of 112, two ahead of our AfMA Director Mace Hartley. Remarkably we had a tie for 3rd, not just in points but in the margin as well with both Andrew Nibloe (Hopper Motor Group) and Travis Wait (Custom Fleet) splitting the prize money.
In the NRL competition David Still (Summit Fleet Leasing and Management) took home our inaugural trophy with 126 correct tips. Meanwhile UnitingCare Queensland's Mark Stephens brought home 2nd and AfMA's Daniel Braid just held onto 3rd place by correctly tipping the very last game of the year.
A final shout out to Able Australia's Tom Leggett who expertly mastered his way into Last Place to receive our highly coveted Wooden Spoon trophy in both the NRL and AFL competition for the 2nd consecutive year. In his words it's apparently harder to do than you might think – "Do you know how hard it is to intentionally come last?" he says with a wry smile.
AFL Winners
$1000 base + $500 player pool
| | | | |
| --- | --- | --- | --- |
| Prizes | Winners: | Cash Prize: | Allocation: |
| 1st | Daniel Sanchez | $ 750.00 | 50% of base and player pool |
| 2nd | Mace Hartley | $ 450.00 | 30% of base and player pool |
| 3rd | Andrew NibloeTravis Wait | $ 300.00 ($150 each) | 20% of base and player pool |
| Last Place | Tom Leggett | Wooden Spoon | 0% of base and player pool |
NRL Winners
$1000 base + $250 player pool
| | | | |
| --- | --- | --- | --- |
| Prizes | Winners: | Cash Prize: | Allocation: |
| 1st | David Still | $ 625.00 | 50% of base and player pool |
| 2nd | Mark Stephens | $ 375.00 | 30% of base and player pool |
| 3rd | Daniel Braid | $ 250.00 | 20% of base and player pool |
| Last Place | Tom Leggett | Wooden Spoon | 0% of base and player pool |